Manuel Ahnemueller is a designer and concept-/ developer for arts and cultural mediation.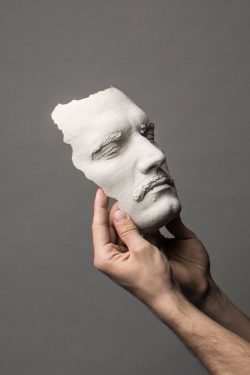 His process is characterized by an experimental form analysis. Manuels work focuses on the themes of identity, interaction and cultural heritage, which can be experienced through spatial transforma-
tions. This is also illustrated by his exhibition- and installation design "Gender of Power" – which discusses the socio-political gender debate (Bachelor, 2016) – and his master's thesis "Masks in the digital era" – which features the synthetic face and the limitations of physical space. After successfully passing the exam in July 2018, Manuel was honored with the highest artistic distinction, the Meisterschüler study at the University of the Arts Berlin.
Manuel Ahnemueller is a designer and concept-/ developer for arts and cultural mediation, as well as design research.

more  〉〉〉
Exhibition | Publication | Workshop
Photography | Graphic Design